OrderlyEmails is excited to announce our integration with Wonderment, a platform that helps direct-to-consumer (DTC) brands connect with their customers and deliver a better customer experience. With this integration, you can easily include your store's branded tracking page in your Shopify transactional emails, enhancing the customer experience and driving them back to your website.
Transactional emails are an important part of any ecommerce business, and they provide a great opportunity to deliver a great customer experience and keep customers coming back. Shopify provides out-of-the-box templates for your transactional emails, such as the Order and Shipping Confirmation notifications, but these can be limiting and don't allow for much customization.
OrderlyEmails makes it easy to create beautiful, custom transactional emails for your Shopify store. Our email themes are easy to customize, even if you don't have any design experience, and we provide a range of options for increasing revenue with your emails, including product recommendations, discounts, upsells, and social profiles. Our Magic Designer will even import your store's logo, colors, and font styles automatically, so you can get started quickly and easily.
With the Wonderment integration, you can enhance your shipping-related notifications and drive customers back to your branded order tracking experience on your website. Currently, the "track package" links in Shopify's shipping templates go to the Shopify order confirmation page, but with the Wonderment integration, you can link to your own branded tracking page instead. This allows you to provide your customers with more information about their order and make it easier for them to track their shipment.
What is OrderlyEmails, and how does it work?
OrderlyEmails transforms the standard Shopify ecommerce transactional emails into something that delights your customers. 
Here's how:
You can design them the way you want with beautiful email themes, with no design experience needed.

Generate more revenue while you sleep by including product recommendations, discounts, upsells, and social profiles in your emails.

Get ready to roll in a few minutes with the "Magic Designer" that will import your store's logo, colors, and font styles without you lifting a finger.

No subscription fee – test multiple email templates, settle on the best and purchase it (from 25+ templates). 
And that's not all. OrderlyEmails lets you customize a variety of Shopify email notifications.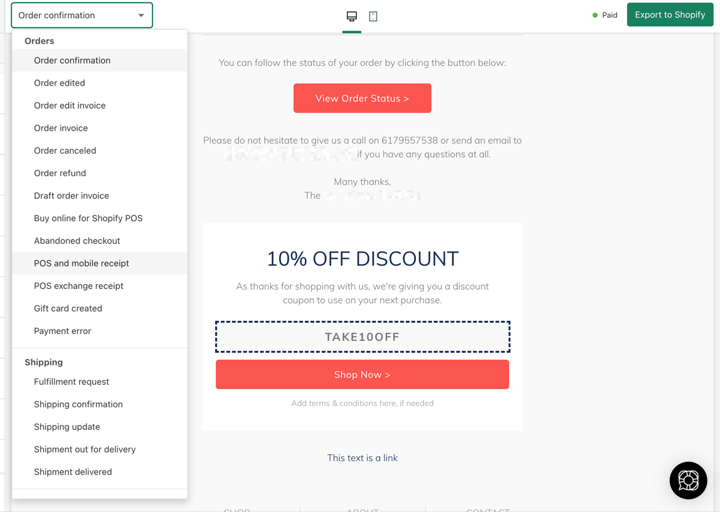 Powerful ecommerce transactional emails with Wonderment & OrderlyEmails
But what does it have to do with Wonderment's integration, you ask? You're going to love this!
With this integration, you can directly place your store's branded tracking page within any and every transactional email that Shopify sends to your customers, right from order confirmation to shipment delivery.
How to replace the "Track Package" CTA in Shopify's shipping templates with your own branded tracking page
Currently, the "track package" links to Shopify's order confirmation page. But that's a missed opportunity for upsells or promoting educational content about your products, referral program, shipping FAQ, and the like.
Here's an example of what the before and after could look like for your customers:
BEFORE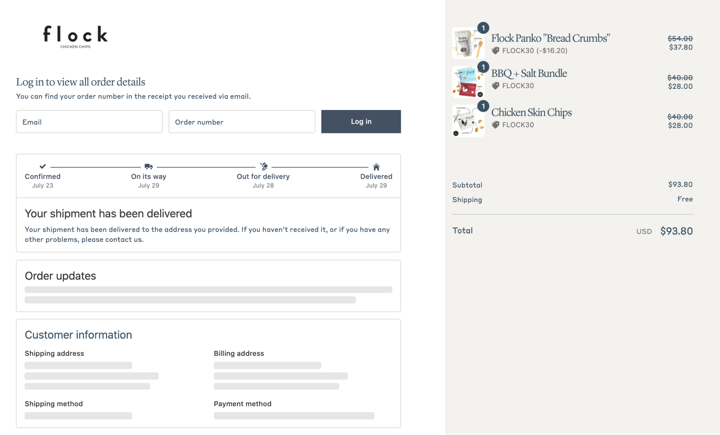 AFTER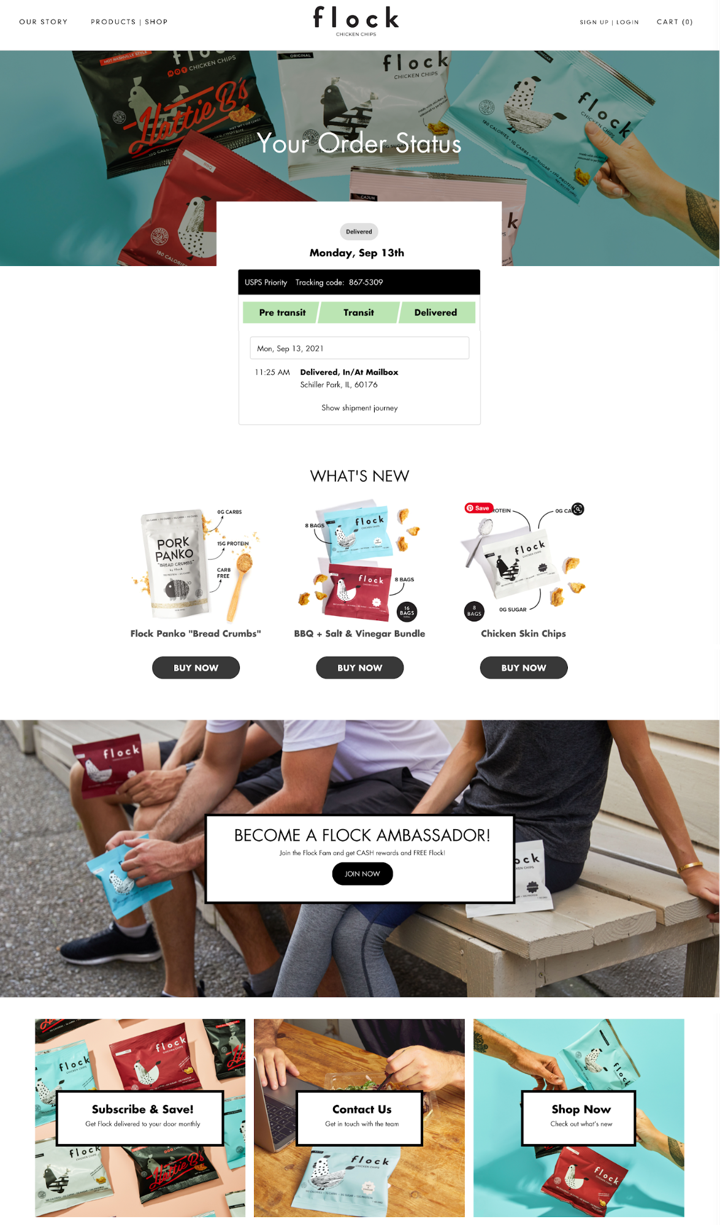 Here's how to generate your own branded tracking page and link to them from Shopify's shipping emails:
1) Install Wonderment on your ecommerce store. Once you upgrade to the Premium Plan, this will automatically generate a custom tracking page for you and simultaneously activate the tracking page links within OrderlyEmails.
2) Next, in the OrderlyEmails editor, find the email type selector & select "Shipping confirmation" from the drop-down menu.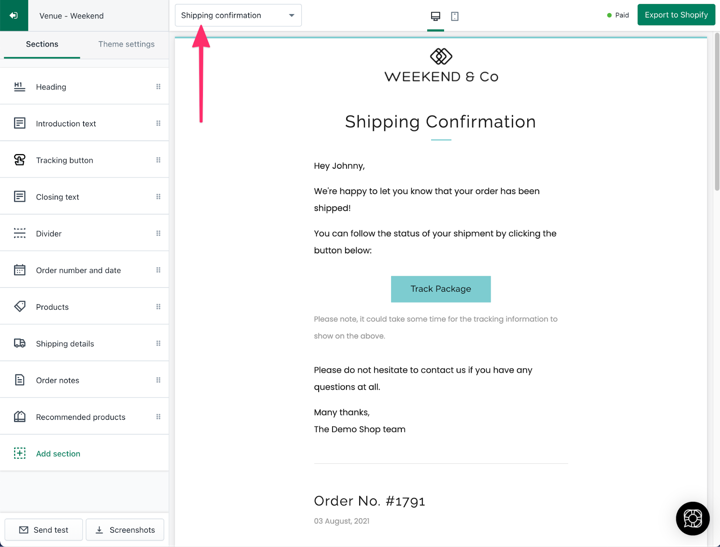 3) Click on the "Tracking button" section in the list of sections.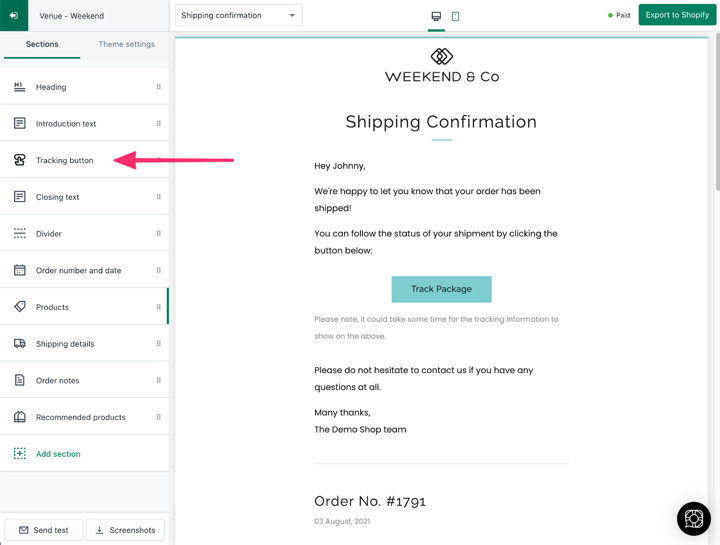 4) Change the "Links to" setting to "Wonderment tracking page." The app will then automatically include the correct code in your emails to link to the relevant tracking page for that customer's order.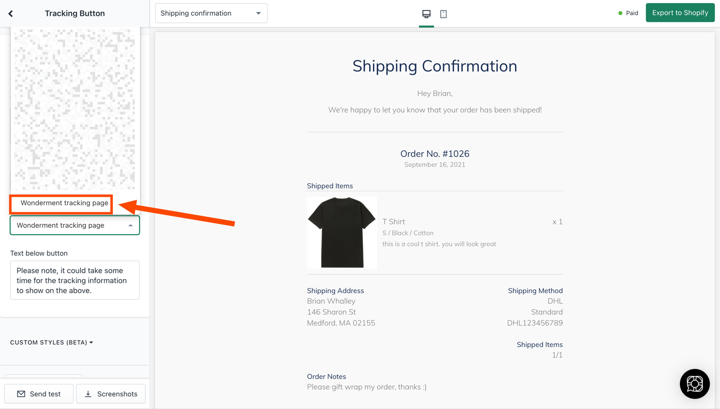 Note: This will also update the link used in the Shipping update, Out for Delivery, and Delivered shipping emails automatically.
Benefits of using a branded tracking page vs Shopify Order Details page for order lookup
Wonderment as a platform helps DTC brands connect with their customers better and deliver the best experience possible. We're partnering up with companies like OrderlyEmails to do just that.
In this instance, you can send your customers to a well-designed tracking page that lets them know their orders' exact status, thus reducing post-purchase anxiety. This kind of brilliant experience compounds which results in the customer coming back to buy more. 
But that's not all. 
Here are three other ways through which Wonderment's tracking page comes in handy:
When sending your customers to a Wonderment order tracking page, they already know where their packages are. As per our data, this 

cuts WISMO (aka "where's my order") tickets in half

. 

You can customize your tracking page the way you want – this also means that you can add your best-selling products on that page and 

increase the chances of an upsell

. 

Besides the tracking page living on your top-level domain, you can 

share the tracking page link to your customers

 through Klaviyo emails, PostScript or Voyage SMS, and Gorgias' chatbots whenever you need. 
And you're not alone. Top brands like Kettle & Fire, Baboon to the Moon, Three Ships, Hydrant, and 300 other brands are upgrading the definition of "great customer experience" every day with Wonderment. 
You can install and try both apps from the Shopify App Store now: